Investor Quarterly Letter #3 & 

My Journey to SPC
2019 Q1 @ FI! Quit Job 4/5/2019!
Questions from the HUI!
I summarized my feelings of investing in a living article here.
We are witnessing history in the making with the longest bull market since WW2. (Source)
I don't know what the Black-Swan Event will finally make the economy tip…
This is NOT the time to be aggressive in your deal underwriting (lowering reversion cap rates, vacancy rates, and increasing annual rent increases over 2.5%). And its NOT the time to get short term loans (5 years or less).
We have an inverted yield curve which academics call an indicator of a recession…and also the Fed – after raising rates in September and again in December announced it envisions no rate hikes in 2019. This trend is usually a good predictor of upcoming recession as shown in the past history of US financial performance.
And on March 22. 2019 CNBC announces that the 'Yield Curve' inverts as 3-month yield tops 10-year rate.
This means that the 3 months yield curve is more attractive than 10 year.  This is what we call a "yield curve inversion ".
No regular guy on the street feels this but it impacts the banks greatly. The banks make money by paying retail to CD savings paying ~1% using short term interest rates like 3  months or 2-year yield to the regular guy who walks into the bank for a loan or gives us a 4-5% commercial real estate loan to do a
syndication
.  That arbitrage is how the bank makes money.  If short term yield is higher than the 10-year treasury yield, then the banks can't really make money by arbitrage. The Banks will stop lending.  When then banks stop lending,  no one can get any loans which leads to a slowdown in economic activities leading to recession. Companies start shipping less and ordering more raw goods and everyone freaks themselves out into being gun shy.
China's debt bubble from overbuilding coming to pay the piper? The Wall? Government shutdowns? At least we don't have to worry about missiles hitting Hawaii anymore.
Here are some more scenarios from our online tribe: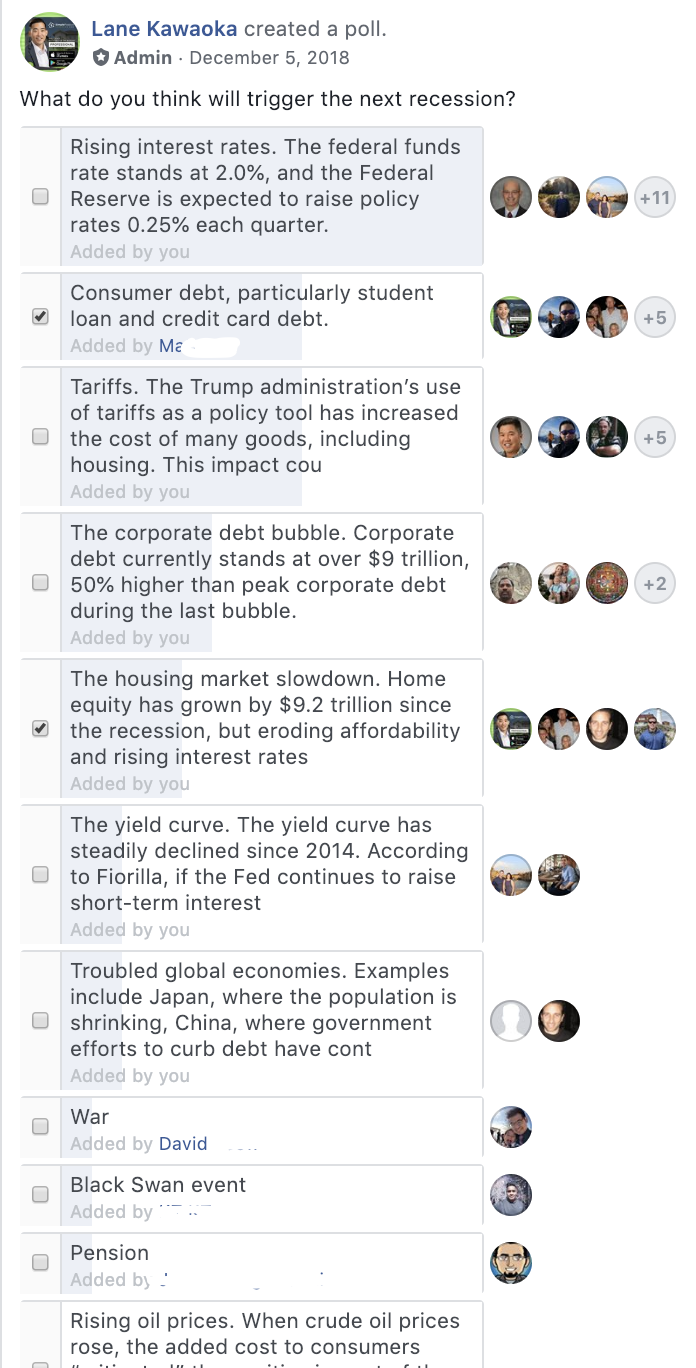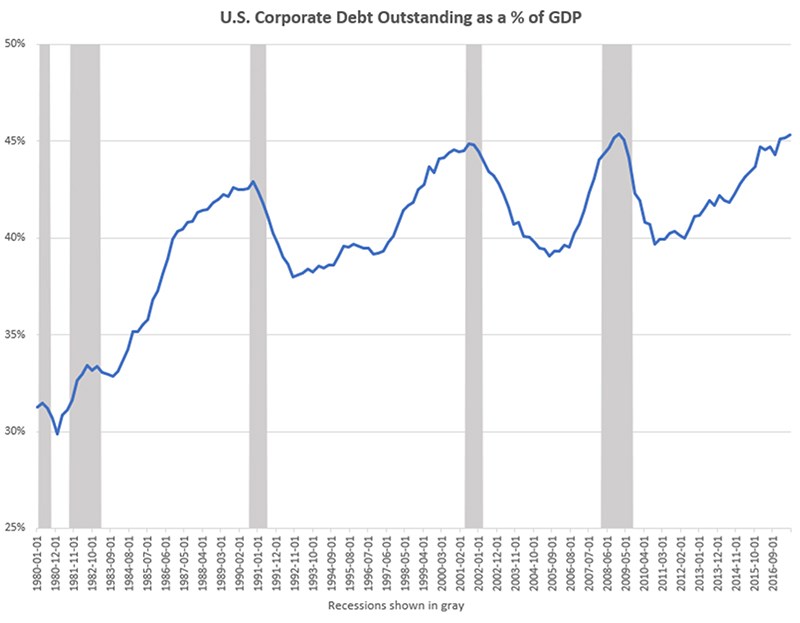 "Total corporate debt has increased by over $2.5 trillion or 40 percent since its previous record high in 2008, to about $9 trillion, dwarfing commercial real estate debt, which is about $2.8 trillion. (By way of comparison, residential mortgages have decreased from $11.3 trillion to $10.7 trillion over the same time span.)" – CPE – 19.03.6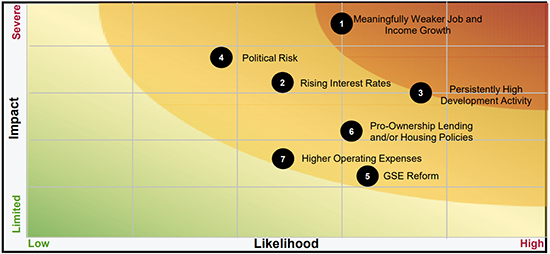 How likely are these events?
But I'm beginning to search for something other than MFH Apartments. Email me for a sneak peek 😉
Look at the uptick in Retail vs MFH H2-2016
[Investors are chasing for decreasing yield these days] – REI.com – 19.03.4
[Sophisticated Investors know interest rates and caps go up and down together and their money is made in the delta between the two] – REI.com – 19.03.4
MFH is great but you need to be aware of new Class A apartments being built to put downward pressure on pricing – Source MHN
Something I am watching lately is the jobless claim stats which seems to be a more of a direct indicator that the manipulated unemployment stats. To use a medical analogy, the jobless claim is like your blood sugar level where the unemployment stats is your longer term A1C number.
Jobless Claims are:
Complete data – not sampled.  Most official data is a partial sample.  Jobless Claims are conducted across all parts of the US.
Not modeled.  Most official data gets modeled and extrapolated.  That means inflection points and disruptions get missed until the model is 'corrected'.  Jobless Claims are pure
Actual data, not opinion.  A lot of data points are actually just opinions and soft surveys.  (Q: How do you feel about prices?  A: I dunno.  ok?)   Conversely, each Jobless Claim required an individual to raise their hand and say they were just fired.
Frequent and Real time.  Jobless Claims are published each week within days of filing.
But enough of this doom and gloom because most gurus out there call recession everyday just so they can have Tweetable content.
I saw the new Group Coaching program and wondering if you are still investing your money on the LP side of deals or if you are moving more towards selling courses and education?
Here is the deal… I am seeing more and more random people get into this business syndicating and deals (its just more noise as an LP to go through to see which are underwritten the right way). I see where things are going 2020+. I also see deals floating around out there for months and then being re-syndicated which I believe because the original sponsors are desperate not to pay hard money costs and its easier to give someone an arm and a leg to raise the money for them. That said those deals suck to begin with and if they were such a good deal that it would get funded in the first month. ' unfortunate what people do to for money and something I personally struggle with as I don't want to be in deals that are sucky in a couple of deals cause the numbers did not make sense in the first place.
I started with a goal of getting FI which I feel I'm pretty much there. Now the goal is to build even more meaningful relationships with people and it seems I am blessed to get on bi weekly calls with people who are really motivated and gracious on what I do. Nothing is better than that. It's truly an honor and energizing.
I'm trying to stay in a sweet spot where I'm not charging people who can't afford $20,000 mentorships and working with the non-CEF crowd. Where CEF stands for cheap, easy, free. Don't get me wrong… I'm all for free content and much of what I gathered 2009-2015 was on my own but then again I wasted a lot of time and made a few mistakes. One thing I notice in the CEF or "freebie-joe" crowd is that you have a lot of scarcity-minded people who just want to get un-broke and not really her for relationships and sport. Its sort of like me at my day job… I work my 40 hours do my job but that's it… no extra credit stuff not much fun too. The theory is that when you start charging a dollar (or go to a nicer venue with $7 dollar beers) at the door you start getting maybe not higher quality people but higher quality mindsets.
Site visits per month on SimplePassiveCashflow.com => more people I get to pick and choose who I associate with
Episode 147 – Economic Predications with MoneyBall Trader

Vice Index
Watch the China Trade
Economic indicators
Episode 146 – Investing in Musicals w/ Matt "Broadway" Picheny

Matt, and I met a few years back when we were starting to invest in apartments. Having the right network is critical and its important to grow with people. Make no mistake this type of investing is high risk high reward but it's a whole lot of fun. When I build my base of cashflowing Class B and C apartments I will look to trophy assets like these.


​​Section 199A was enacted on December 22, 2017, and was amended on March 23, 2018, retroactively to January 1, 2018, by the Consolidated Appropriations Act, 2018, Pub. L. No. 115-141.

The Treasury Department and the IRS wanted to clarify the rules and prepared a document* to explain the Section 199A deductions.  

BELOW IS JUST AN INTERPRETATION AND YOU ARE ENCOURAGED TO FIND YOUR OWN LEGAL AND TAX PROFESSIONAL 

*IRS notice 2019-07  (

https://www.irs.gov/pub/irs-drop/n-19-07.pdf

) explains the administrative rules and defines a safe harbor for real estate investors as is defined in Section 199A of the Code.

Safe harbor for the purposes of section 199A, a rental real estate enterprise will be treated as a trade or business if the following requirements are satisfied during the taxable year with respect to the rental real estate enterprise:

Solely for purposes of this safe harbor, a rental real estate enterprise is defined as an interest in real property held to 

produce rents and may consist of an interest in multiple properties.

The individual or relevant pass through entity (RPE) relying on this revenue procedure must hold the interest directly or through an entity disregarded (such as an LLC) as an entity separate from its owner under § 301.7701-3.
Taxpayers must either treat each property held, for the production of rents, as a separate enterprise or treat all similar properties held for the production of rents as a single enterprise (i.e. owned by the same LLC).
Commercial and residential real estate may not be part of the same enterprise. (There is a question regarding the treatment of mixed-use buildings under this ruling, that has not been resolved yet)
Note: Taxpayers may not vary this treatment from year-to-year unless there has been a significant change in facts and circumstances.
This includes a deduction of up to 20 percent of aggregate real estate investment trust (REIT) dividends and qualified publicly traded partnership income.

Additional Safe Harbor Requirements (A) Separate books and records are maintained to reflect income and expenses for each rental real estate enterprise; (B) For taxable years beginning prior to January 1, 2023, 250 or more hours of rental services must be performed (as described in this revenue procedure) per year, with respect to the rental enterprise. For taxable years beginning after December 31, 2022, if in any three of the five consecutive taxable years that end with the taxable year 250 or more hours of rental services are performed (as described in this revenue procedure) per year with respect to the rental real estate enterprise; and

The taxpayer maintains a record of the following:

Hours of all services performed.

Description of all services performed.

Dates on which such services were performed.

Who performed the services.

Rental activities allowed in the 250 hours for the purpose of this revenue procedure include:

Advertising to rent or lease the real estate.
Negotiating and executing leases.
Verifying information contained in prospective tenant applications.
Collection of rent.
Daily operation, maintenance, and repair of the property.
Management of the real estate.
Purchase of materials.
Supervision of employees and independent contractors.
Rental services may be performed by owners or by employees, agents, and/or independent contractors of the owners.

The following tasks are excluded and not allowed to be counted as part of the 250-hour Safe Harbor:

Financial or investment management activities, such as arranging financing.
Procuring real estate.
Studying and reviewing financial statements or reports.
Planning, managing, or constructing long-term capital improvements.
Hours spent traveling to and from the property.

[In order words you seem like you need to do actual work]

Clearly Excluded from Safe Harbor:

Real estate used by the taxpayer including an owner or beneficiary of an RPE (relevant passthrough entity), as a residence, for any part of the year.
Real estate rented or leased under a triple net lease for purposes of this revenue procedure, a triple net lease includes a lease agreement that requires the tenant or lessee to pay (at least a portion of) rent, utilities, maintenance, taxes, fees, and insurance
LLC's where commercial and residential real estate are part of the same enterprise, such as an apartment complex and industrial building in the same LLC.

These rules place the burden of keeping time spent records of the rental services, on the Taxpayer. The work can be performed by a combination of owners, agents, and contractors. The key will be that all those involved in an investment will need to keep time records starting January 1, 2019, and will need to consolidate them for the next tax year.

The goal, of course, is to obtain 250 Hours of Services to qualify for the Safe Harbor and the tax savings.

You should talk with the managing partner of the pass-through entities you own and make sure these requirements are being meet starting January 1, 2019.

Don't have 250 hours?

Should you not be able to reach the 250 Hour threshold to shelter your income, you can instead focus on reducing income instead to reduce tax expenditures.

To reduce income, property owners may want to consider 

cost segregation

 studies to increase/accelerate depreciation.

Also, under the new 

law

, improvements to the interior of a building may qualify for bonus depreciation.  Unfortunately, there seems to be a wording error in the legislation, which will need to be fixed by Congress. 

The error in the legislation is technical, so property owners will want to consult their tax advisors to determine what position they want to take on the error.

Summary

The Treasury Department and the IRS have clarified their understanding of Section 199A of the revenue code.   In this case the changes relate to businesses and additional savings that can be garnered with an additional deduction of up to 20% of the taxpayers qualified business income for non-corporate taxpayers including businesses operated through partnerships, S corporations or sole proprietorships.

Your goal as a real estate investor is to reach the 250-hour safe harbor mark so you can take these deductions.  This will not be easy. If you are excluded from the safe harbor, look for ways you can accelerate depreciation so you can save on taxes instead.   This tax change is significant and very complicated. If you need a referral to my CPA let me know.

FORBES – Is All Debt Bad Debt? – By Lane Kawaoka – 19.03.29
Our Book Club Webinars – Tax-Free Wealth – Learn how I am able to write off these types of items in my business (and fight of mosquitos).
Update to SPC Ultimate Guide to Taxes – 

Capital Improvements vs. Repairs & Maintenance Expenses

Once your property is in service, you'll need to determine whether each repair and maintenance expense you incur should be classified as a regular expense or a capital improvement. Capital improvements must be capitalized and depreciated which sucks because you can't take the tax deduction right away. Most rental property owners will prefer to have as many of these costs as possible classified as regular repair and maintenance expenses in order to maximize current year deductions and minimize depreciation recapture.

There are three safe harbors that help move some expenses that would otherwise be classified as capital, into the regular expenses bucket:

• Safe Harbor for Small Taxpayers

• Routine Maintenance Safe Harbor

Here are some examples of maintenance (Not Capital improvements)

• a few shingles on a roof

• a few planks or tiles on a floor

• inspect, or clean part of the building structure and/or building system

• replace broken or worn out parts with comparable parts

Here are some examples of Capital improvements (Boooo you have to capitalize)

Additions (e.g. additional room, deck, pool, etc.)

• Renovating an entire room (e.g. kitchen)

• Installing central air conditioning, new plumbing system, etc.

• Replacing 30% or more of a building component (i.e. roof, windows, floors, electrical system, HVAC, etc.)

In 2017, I was able to bring $25,000 of passive losses to deduct off my W2 income to ultimately pay 14% effective taxes for the year.

Under the passive activity limits, you can deduct up to $25,000 in passive losses against your ordinary income (e.g. W-2 wages) if your modified adjusted gross income (MAGI) is $100,000 or less. This deduction phases out $1 for every $2 of MAGI above $100,000 until $150,000 when it is completely phased out. Note: these limits apply to both those filing single or married filing joint.

In addition, in order to take losses against your ordinary income, you must materially participate in the activity by meeting one of the following seven tests:

1. You participated in the activity for more than 500 hours.

2. Your participation was substantially all the participation in the activity of all individuals for the tax year, including the participation of individuals who didn't own any interest in the activity.

3. You participated in the activity for more than 100 hours during the tax year, and you participated at least as much as any other individual (including individuals who didn't own any interest in the activity) for the year.

4. The activity is a significant participation activity, and you participated in all significant participation activities for more than 500 hours. A significant participation activity is any trade or business activity in which you participated for more than 100 hours during the year and in which you didn't materially participate under any of the material participation tests, other than this test.

5. You materially participated in the activity (other than by meeting this fifth test) for any 5 (whether or not consecutive) of the 10 immediately preceding tax years.

6. The activity is a personal service activity in which you materially participated for any 3 (whether or not consecutive) preceding tax years. An activity is a personal service activity if it involves the performance of personal services in the fields of health (including veterinary services), law, engineering, architecture, accounting, actuarial science, performing arts, consulting, or any other trade or business in which capital isn't a material income-producing factor.

7. Based on all the facts and circumstances, you participated in the activity on a regular, continuous, and substantial basis during the year.

High Paid W2 Earner & "Real Estate Professional" the perfect "Kobe & Shaq" Combo

The "real estate professional status" allows real estate investors to take unlimited rental losses against their ordinary income – strategically you want to get out of the highest two tax brackets at least. This has now been limited to $250,000 in losses if single (and $500,000 if married) under the excess business loss limits introduced by the Tax Cuts & Jobs Act.

In order to qualify as a real estate professional you must spend at least 750 hours in a real estate trade or business and more than half your total working hours must be in a real estate trade or business.

Due to these requirements, many investors who work a full-time job or full-time in another business that is not real estate-related will have a hard time qualifying as a real estate professional.

Meeting the above requirements will not necessarily allow you to deduct your rental losses against your ordinary income. You must also materially participate in the rental activity using the same tests mentioned above, but is most commonly done by electing to aggregate all your rental properties as one activity and then working 500 or more hours in this single activity per year.

Note that if one spouse qualifies for the 750 hour test, both spouse's time on the rental properties count towards material participation, and losses can then be taken against either spouse's income.

This is a great strategy for couples where one spouse works in a real estate trade or business, works only part-time, or not at all outside of your investment activities.

Note: In any year you elect to be treated as a real estate professional for tax purposes, you'll need to keep a log of all hours worked within a real estate trade or business

More homeowner advice:

Join the movement of high-income earners who are renters cause they did the math and did what made sense.

Learn more about renting in primary markets here.
ALN – Market Stats April 2019 – Link
Senior Housing Business – 19.04.3 – Seniors Housing Developers Pressured from Multiple Sides
Get Ready: Recession-Proofing An Apartment Portfolio – [Bottom line is buy cashflowing assets in good locations, good lending terms] – National Apartment Association 19.03.7
Landlords are now limited to increases once per year that cannot exceed 7 percent plus the change in the consumer price index, which is used to calculate inflation. [Most investors see rent control as mostly the Government being stupid but I think 7% rent increases is a nice little control. We underwrite 2-2.5% increase in rents as high] – Source 19.03.6 
 
Between 2010 and 2017, population growth averaged 5.5% for the US as a whole. Delaware boasted the highest growth rate, 15.3%, over these years. A state with a relatively small population, however, needs fewer new residents to achieve such a high growth rate. The double-digit rates recorded by Texas (up 12.6%) and Florida (up 11.6%), both high-population states, are therefore that much more impressive. There were three states that posted population decline between 2010 and 2017: West Virginia (down 2.0%), Vermont (down 0.3%), and Illinois (down 0.2%). – ITR – 19.02.28 
How affordable is rent really? – "During the same span, median effective rent nationally has risen by about 26%. That rent appreciation pushed the median monthly rent nationally to around $1,220 per unit to end 2018. With the US median household income being just over $62,000, this rent accounts for 24% of monthly income. Using the typical benchmark of monthly rent being 30% of monthly household income for affordability, a margin remains for renters." – [If you stick to using 2% and under rent growths and stay away from Tier I or Primary markets you should be fine] – ALN 19.02.24
Apartment Report – [More people really are moving in with mom and dad] – Greenstreet – 19.02.20 (Sample report with Atlanta)
4Q 2018 Report NKF – 19.02.20
Salt Lake City Tops U.S. in Diversity of Jobs; Las Vegas Is Last – [Economic diversity is important] – 

19.02.20 – Bloomberg

19.02.14 – RE BusinessOnline: Google to Invest $13B in 2019 on New Data Centers, Offices Across the United States – [I see institutions taking a bigger and bigger share of the market squeezing us the mom and pop investor]
19.02.13 RE Business Online – Fading Tailwinds Will Limit U.S. Economic Growth in 2019, Says MBA's Chief Economist – [Nice recap of what has been going on lately, although no one knows when the end is. Media is always trying to guess the drop so they can play the "I told you so" game]
Yardi Report 19.02.7  – [Stats on rent increases etc]
Yardi 19.02.7  – January Self Storage Report
Co-star 19.02.7  – Past performance is no indicator of future success. Many operators in Dallas 2012-2014 were able to double investors money in just a year or two – come to find out they only implemented 20% of the rehab. It was mostly market appreciation which is out of our control and can bail out a bad operator.

Dallas Growth 2010-2018 +projections

Freddie Mac MFH Presentation 2-7-19 – [Good perspective on where we are in the cycle and not to underwrite for growth over 3%]
RE Business Online 2-6-19 – KeyBank Provides $142.1M Acquisition Loan for 15-Property Skilled Nursing Portfolio – [A one-off deal but shows that institutions are getting into the assisted living arena]
MFE 2-6-19  – 2018's Record Deal Volume Suggests Positive Trajectory for 2019 – "driven in large part by increased interest in the student housing sector, which accounted for 17% of all deal activity in the third quarter, compared with a consistent 4% over the past 13 years" – [I don't like student housing as I am seeing an education bubble with all the lending. It's crazy how dorms get renovated every few years]
MFE 2-6-19 -Freddie Mac Sets Multifamily Production Record – "$78 billion in total production bests the company's prior record of $73.2 billion set in 2017. Overall, the company financed more than 860,000 rental units, more than 90% of which are considered affordable to low- and moderate-income families making 120% of area median income (AMI) and below." – [More more more!!!]
1-28-19 – Great annual report with breakdowns with each major MSA – Link – [MM is a MFH broker so expect it to be a bit bullish on the market]
1/23/2019 – In December 2018, I started the see the signs that the economy was turning and therefore I needed to pivot.The US stock market flirted with bear-market territory (typically defined as a 20-percent drop from a prior peak) before a meek rally closed the month, reeling it back from the edge. (Source – ITR):

The S&P 500 finished December 2018 down 6.2% from the December 2017 level, the harshest month-over-month drop since early 2016.
The S&P 500 monthly data trend ended 2018 lower than it opened, posting the worst calendar-year decline for the US stock market since 2008.
The just-recorded month-to-month drop of 9.2% was the second-sharpest November-to-December decline on record. The sharpest? 1931 – not good historical company to keep.

1/23/2019 – (Pro-investing/broker) publications mention "Healthy 2019 Projected for Multifamily Investment: Investors should be keen on apartment assets due to strong fundamentals, opportunities for both buyers and sellers, and an abundance of capital. " That abundance of capital is what is concerning me because its the dumb money rushing into accessible asset classes such as apartments and residential real estate… especially when the same publication releases this article on the same day – "US REITs to Continue Solid Performance in 2019, But Growth is Slowing."
Bloomberg – 1/17/2019 – [Sam] Zell reveals what he's doing right now and why – Video link – [You are not Sam Zell… if you are under 1M-2M net worth you should still be investing proactively]
MHN 1/19/2019 – "Apple, Facebook and Google are branching out from Silicon Valley, while J.P. Morgan, Charles Schwab and Alliance Bernstein are moving some operations out of New York City and San Francisco. Favored destinations are locations like Austin, Denver, Dallas, Nashville and Raleigh" – [This might explain the softness in the Bay Area but it explains the emergence of secondary Tech markets.
CPE 1/19/2019 – "As the U.S. enters its 10th year of this unhurried expansion, economists are not ruling out the possibility that a slowdown will finally arrive in late 2019 or early 2020" – [We are already seeing less action than in 2017 and 2018]
ALN 1/5/2019 – "At a national level in 2018, the multifamily industry added about 300,000 new conventional units. That is an increase from the roughly 280,000 units from 2017. Fortunately, net absorption outpaced this new supply by an even greater margin than the previous year. There were about 340,000 newly rented units in 2018, beating the 2017 mark by a full 100,000 units. As a result, average occupancy managed a slight uptick of 0.5% despite the new supply and ended the year at around 92%." Full Data – [Remember these guys are trying to sell MFH]
Yardi Winter Report – 1/5/2019 – "The economy is showing signs of strain and stock market volatility demonstrates heightened concern about the economy among investors, but job growth and consumer spending are likely to remain healthy. GDP might not approach 3% again, but neither do we see it slowing below 2%." – [Remember that this includes all data including Class A which skews rent increases]
1/10/19 – "2018 proved to be a solid year for the multifamily sector, and 3.2% rent growth slightly exceeded going-in expectations. Despite the recent volatility in the financial markets, we foresee more of the same in 2019, with strong demand producing rent growth just shy of 3% nationally." – Yardi – [Remember that a lot of this data includes primary markets like Bay Area and Vegas, 2.5% might be a better input for rent increases]
Check the latest U-Haul report (Do it yourself/blue collar moves) – https://www.uhaul.com/Articles/About/16390/U-Haul-Announces-Top-25-Us-Growth-Cities-For-2018/Note: The "Van-Line" Report is more for white collar job movement.
†
If you are like me and lost when it comes to the softer side of being a human you need a book like this to tell you what to do.
We went to Tony Robbins as a group in March and it was a great time of transformation. Here is the Tony Robbins Priming video to use at home. I ripped the mp3 here if you want to download and store on your phone for quick reference. If you propeller hats out there want to add it to Alexa/Siri's quick play as your morning ritual good for you!
Here are some takeways I had:
Less urgency with more systems

Barriers- peers around to do the same things, 

What needs to shift what actions… Deciding how to do this

Why will you live in a beautiful state everyday no matter why?

Life is too short
It is a slippery slope backwards
In the end a beautiful state is what we are after anyway not money, house, job or relationships. 
I have control over this… Potential => Actions => results => belief/concerns

Flavors of reaction: 

Three things that cause suffering the fear of 1) loss 2) less 3) never have something

Suffering => appreciation => joy

You will make more money if you are in a better state.

Two things that I did to start investing to go bigger – 1) started something that could be better and connect with others and build a platform to have larger impact. I made small changes and found models and copied and got around the right people and slowly built 2) started paying to learn


https://www.youtube.com/c/SimplePasiveCashflowdotcom
Trying to make a cost-effective program that combats predatory real estate companies:
"A couple of years ago I was scrolling my Facebook feed and saw an ad from a notable author that said "make a bunch of money with zero money wholesaling and flipping houses"
And I said wow that's amazing.
I'm going to be an entrepreneur!
I showed up at this seminar by the end of the day I paid $40,000
(of course on my credit card), hehe.
First, off I should have not even been doing those active real estate activities cause I was a busy professional."
Hopefully my addition to Forbes can prevent someone from investing in a hotel –
Hotels are a speculative asset class. Class B and C apartments perform in tough times because everyone needs a place to live. Vacations are a discretionary item on most people's budget. In good times it outperforms many asset classes because of dynamic pricing, where the prices surge due to demand. Hotel investments have a place in a portfolio after more recession-proof assets are acquired first. – Lane Kawaoka
Just Closed 101-Units (not puppies)!!!
Class C Apartment in a Tertiary market due to port expansion. Not underwritten for more than 2.5% annual rent increases but built more for cashflow as we get ready for the coming recession…
5.3% for 30-year amortization (Hybrid note: fixed for 7-years, Floating rate 13-years, Loan Term 20-years)
The coolest thing is how we got 7 first-time investors (Wall Street refugees) on this project!
And out Hui just closed on The Trails At Rancho Vista, a 309-unit apartment complex in El Paso, Texas!
How to make Coffee: Pour Over with a Chemex – "when you have time to have a cup of coffee while you are waiting for your cup of coffee"
I went to got to a free Transcendental mediation info session. It was in a historical home and it felt like Scientology. Nah Nah its not a religious cult or anything but a specific and structured for of mediation for two 20-minute periods a day. Part of the structured part is due because it's a highly branded and franchise system. It was under $1,000 dollars for a handful of instructor-led sessions but I opted to try this "HeartMath Inner Balance Lightning" out for now. Stay tuned!
Nothing like units finally getting rehabbed after the seasonal slow and cold weather up in Des Moines… The market is coming back!
My business partner… Chase Keller always willing to pick up the paintbrush or help with customer service.
What would you do socially, if you weren't at your day job?
I would say at home, possibly eat junk food, and not get a lot of inspiration from seeing the struggles of W2 people around me. Where else would I get an insiders perspective of the humor of the hampster wheel if I were not in it myself?
We have all heard the "5 people you hang out with most rule… yada yada" perhaps a new circle with a mindset more supportive of your goals?
I am trying to build that here but its a lot harder in Hawaii. The entrepreneurial spirit is poor here perhaps with a smaller population pool or just island complacency.
Local client meetings, realtors, travel, interviews, exercise, gym, hobbies?
At this point, there is nothing that I cannot do with having to fulfill the requirements of my day job. Granted it could shut off the computer at 10PM instead of midnight but I see that as a small price to pay temporality for the "easy money". I talked with another friend who broke it down to hourly rate. I think he said $75 dollars and hour as a consultant, which is why he refuses to take on low ROI tasks like property management.
For now (in this season) it is good but I agree. And at the least you will get a commitment that I will not be here for more than 4 years. I think the security trigger is having my syndications start to cash out after the repositions take place.
One bad decision can cost you significant money. A lot of my investing peers are doing passive investing have pretty boring. Yea I don't think I have failed much (other than this one) not for lack of doing my due diligence but for the most I have taken very small risks from turnkey rentals to 90%+ stabilized non-recourse apartment investments today.
When you are in a position of weakness financially you tend to get attracted for the magic pill and that Jeepers Creepers guys whispering to you about "hey do you want to hear about passive cashflow." When you start of a high paid professional you sort of have a leg up on a lot of people and can transcend a lot of these growing pains.
Guess what? There is nothing passive about getting cashflow.. If it were that easy to get then it would be easy for the next kid who lives in their mothers basement to take it away.
When you are in a position of scarcity/weakness, all future decisions you make are made out of necessity – to solve some immediate short-term immediate need, which is usually a financial one.
By covering your bases and having a stable day job that puts food on the table you minimize the chances of a bad decision from the following reasons:
Out of desperation, you fail to do your due diligence (homework) before making an investment;
Out of desperation, you partner with someone whose background you really don't know enough about;
Out of desperation, you ignore facts or details that a non-desperate person would never ignore.
Never make a major decision when you are in a position of scarcity/weakness. Only make major decisions from a position of abundance/strength.
This allows me to store cash in a very secure (Certain) place
In whole life policies, you have this add-on where you are allowed to add paid up additions (purchasing larger death payout and cash value). In my policy, I need to put in at least 70% of $35,000 once every three years. Note – there are other types of these riders where the requirement is to put a more consistent amount every year but personally prefer the 1 out of three-year arrangement because my business income fluctuates so much. 

Without penalty, I can go over 120% or $42,000 every year as my max. If I want to put in more I would have to make a new policy and get another physical. This limits the risk for the insurance company if you are putting away infinite amounts of cash after deciding to pick up the hobby of skydiving while smoking 2 packs of cancer sticks a day.
Taxes
One of the reasons I moved on from Turnkey rentals is because on bigger deals you can pay for a cost segregation to write off almost 30% of the asset in year one!

Not have to wait for 27 years!
And if your CPA isn't understanding or proactive in communicating this to you… you need one. (I can let you know who I use)

Numbers don't lie look at the year one depreciation I am getting on these deals:

That's $62,452 that I can use to take off my income! If you are in the highest tax bracket that's like $30,000 tax savings!

As a full time real estate profession (I quit my day job) I am able to take all of those deductions. For those of you with day jobs you are capped depending on your income level however those deductions carry forward to that magical day when you fire the boss.
Thanks for you folks who gave testimonials it make me feel swell 😁
The previous seller let the property drop 10% occupancy during a long closing period… oh well let's make do and get after it!
I'm so tired of watching deal pitches and people using the phrase "I'm so excited"… I don't care if you are excited… show me the numbers…
Why people fail/Blind Spots
After over 1000 strategy calls with investors and coaching clients over the past couple of years here are some of the most common excuses/pitfalls people fall victim to:
Health problems/take care of family getting in the way

Ask-hole – there are givers and takers, takers only take and operate with a scarcity mentality operating system. What is worse is these guys are always seeking and not doing. Before you seek out the wisdom of a $1000/hour person and was their time go do the thing that the 5 dollar book said to do or what you said you were going to do.

Never launcher – These guys use perfectionism as their excuse never to launch a product, website, or idea. Subconsciously they are either a coward to put themselves out there or have an inability to get things done.

Debbie Downer/Negative Ned – No one likes yourself. Take a cell phone out and do some camera work to see how unfriendly you come across. You may not want to even interact with yourself.

Worrying about how much the shovel costs when the project is to dig a big home

Misplaced energy – This is the guy who reads all the books, has a vision board, but when you check his facebook it's all about snowboarding trips every weekend to take advantage of the season.
The Law of Avoidance by

Mark

Manson

– How to not give a Fuck –

audio

https://simplepassivecashflow.com/lanehack/
Look fo
Get in as a [Founding] Group Coaching student!
The group coaching is something that I have been trying to put together a couple years now after I accumulated a lot of content and got a feel for coaching students these past few years in a one-on-one setting – see SimplePassiveCashflow.com/coaching
I'm code naming this project, "The Journey to Simple Passive Cashflow" and it will consist of:
1) 27 weeks of curated content with concepts building on top of each other
2) Participants go through those modules together and are able to interact on the Bi-Weekly Call and the Private Facebook group in a "group study" environment
3) Bi-Weekly hour power calls switch between the topics of a) Acquiring you direct investment and b) more high-level wealth building concepts and syndication education
It's going to be a really cool format where people take the journey together. Think like a Fraternity/Sorority without the weird stuff. When I was going through programs it was most beneficial to connect and climb the ladder with quality people. Who knows someone of your Cohorts might do a deal together or become lifelong friends or accountability partners.
Still working on the website but here is a survey to get on the waiting list.
What's in the Pipeline?
% Chance of happening – Details – Timing:
1) Currently open for investors – 101-Unit Class C in Gulfport MS
2) 30% – MFH Apartment
3) 90% – Finally a Non-MFH fund syndication (where I do the admin/accounting) to lower costs and get higher prefs and lower minimal investments. Q2 2019
Unlock additional info by joining the Hui – SimplePassiveCashflow.com/club
Events:
January 17-19 – Online – Use code "LANE" for a discount at MFINSummit.com
February 16 – Honolulu, Hawaii – Use code "SPC" for a discount at infinityinvestinghawaii.com
March 1-2 – Scottsdale, AZ – Titans of Multi-Family Real Estate – wealthformulaevents.com
March 14-17 – Los Angeles – SimplePassiveCashflow.com/mastermindtony
Current investors in past deals let's meet up when you are in Hawaii.  Non-investors you can still kick it with Lane
The Hui Deal Pipeline Club is a free investor club where I filter investments and underwrite the numbers and partners myself. Unlike other investor lists and groups, my investors have personal access to me and know that I personally have skin in the game investing alongside with my investors.
We have acquired over $155 Million dollars of real estate acquired by syndicating over $13 Million Dollars of private equity since 2016.
Track Record of success:
15 Apartments Buildings Purchased, 2 Manufactured Home developments, and an Assisted-Living Facility
2,100+ total units
10 US Markets – AL, GA, IN, OK, LA, IA, TX, WA, PA, MO
Started investing in 2009 – 9 years of experience
Countless Mastermind and Mentorships in the Live & Virtual clubs through the education platform at SimplePassiveCashflow.com
2,600 investors and 100 new Kool-Aid drinkers every month!